报告题目:
Construction of ECM-biomimetic nanofibrous scaffolds based on 3D printing technology for promoting bone regeneration
报告人:
Xiaojun Zhou
所在单位:
Donghua University
Biography:
Dr. Xiaojun Zhou is a lecturer at Donghua University. He received his Ph.D. degree in Materials Science and Engineering from Donghua University in 2016, and completed his postdoctoral study at Shanghai Ninth People's Hospital, Shanghai Jiao Tong University School of Medicine (2017-2019). His research focuses on designing of nanoparticle-based drug delivery system and multifunctional biomaterials for bone disease treatment, including bone and cartilage defect repair and osteoarthritis treatment. Dr. Zhou has received the projects granted by the National Natural Science Foundation of China, and Natural Science Foundation of Shanghai. He also has participated in many projects, including National Key Research and Development Program of China, and National Natural Science Foundation of China. So far, Dr. Zhou has published more than 40 scientific articles in peer-reviewed journals.
Abstract:
In bone tissue engineering, 3D printing technology has attracted numerous attentions in scaffolds fabrication because of its outstanding properties, such as personalization, high accuracy, mechanical and pore adjustment, and assembling of complex spatial structures. The extracellular matrix (ECM)-biomimetic nanofibrous structure is able to enhance cell attachment and tissue regeneration through a mediating cellular microenvironment. Meanwhile, vascular network plays an indispensable role in oxygen and nutrients transportation during the process of bone development, regeneration and remodeling. Therefore, the fabrication of bone scaffolds with biomimetic ECM structure and microvascular system based on 3D printing technology holds great promise in promoting bone defect repair.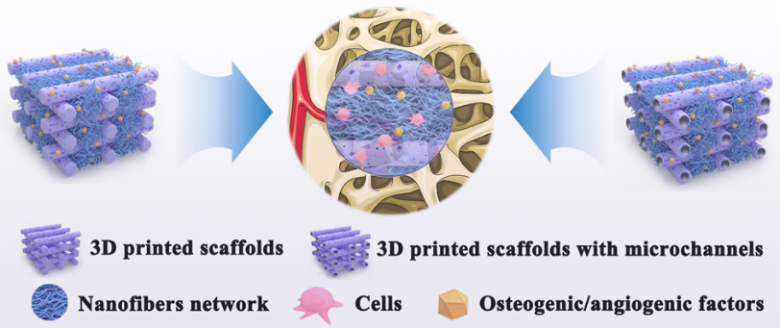 Figure 1. Schematic diagram of constructed ECM-biomimetic nanofibrous scaffolds with dual-drug release for vascularized bone regeneration.
3D printed scaffolds with micro- and nano-fibrous structures that facilitate cell adhesion and migration, and combined vascularization and osteoinduction bioactivity will be ideal implants for bone defect repair. To obtain a biomimetic nanofibrous structure within the 3D printed scaffold, polymer solution was cast into the gap of scaffold and processed using thermally induced phase separation (TIPS) technique. The small molecular drug was loaded into the composite scaffolds to improve the function of vascularization and osteogenesis. Also, the short nanofibers fabricated by electrospinning were incorporated into the 3D printed scaffold to prepare nanofibrous scaffolds to allow combinational delivery of osteogenic and angiogenic factors. The 3D printed scaffolds filled with a nanofiber network can facilitate cell adhesion and migration, and combined functions of vascularization and osteogenesis will synergistically improve repair efficacy of bone defects.
3D scaffold with porous architecture provides a suitable microenvironment for vascular growth and bone formation. We proposed a simple and general strategy to construct a nanofibrous scaffold with interconnected perfusable microchannel networks based on 3D printing technology by combining the phase separation and sacrifcial template methods. To improve the osteogenic activity, sustained release of osteogenic peptide and proangiogenic drug from the nanofibrous scaffold were realized using nanocarrier. In summary, our results demonstrated that the dual-drug loaded nanofibrous scaffolds fabricated using 3D printing technology could enhance vascularization and bone regeneration.