报告题目:
Dual cure (thermal/photo) composite hydrogel derived from chitosan/collagen for in situ 3D bioprinting
报告人:
Ming Kong
所在单位:
College of Marine Life Science, Ocean University of China
In situ 3D printing technologies is a new frontier for highly personalized medicine, which requires suitable bioink with rheology, biocompatibility, and gelation kinetics to support the right shape and mechanical properties of the printed construct. To this end, a facile design of thermo/photo dual cure composite hydrogel was proposed using methacrylated hydroxybutyl chitosan (MHBC) and soluble collagen (C) in this study. M/C composite hydrogel exhibited rapid thermo-induced sol-gel transition and contraction, tunable mechanical properties, proper microstructure and biodegradability for 3D cell culture, as well as improve cyto-compatibility, all of which were dependent upon the methacrylation degree of MHBC and M/C ratios. The printability of the optimal formulation (3% MHBC/1% collagen) was validated by its mild printing condition, rapid gelation of bioink at 37 °C and simple postprocessing manipulation. Both desirable printability and cyto-compatibility enable M/C composite hydrogel a potential candidate as bioink to be applied for in situ 3D bioprinting.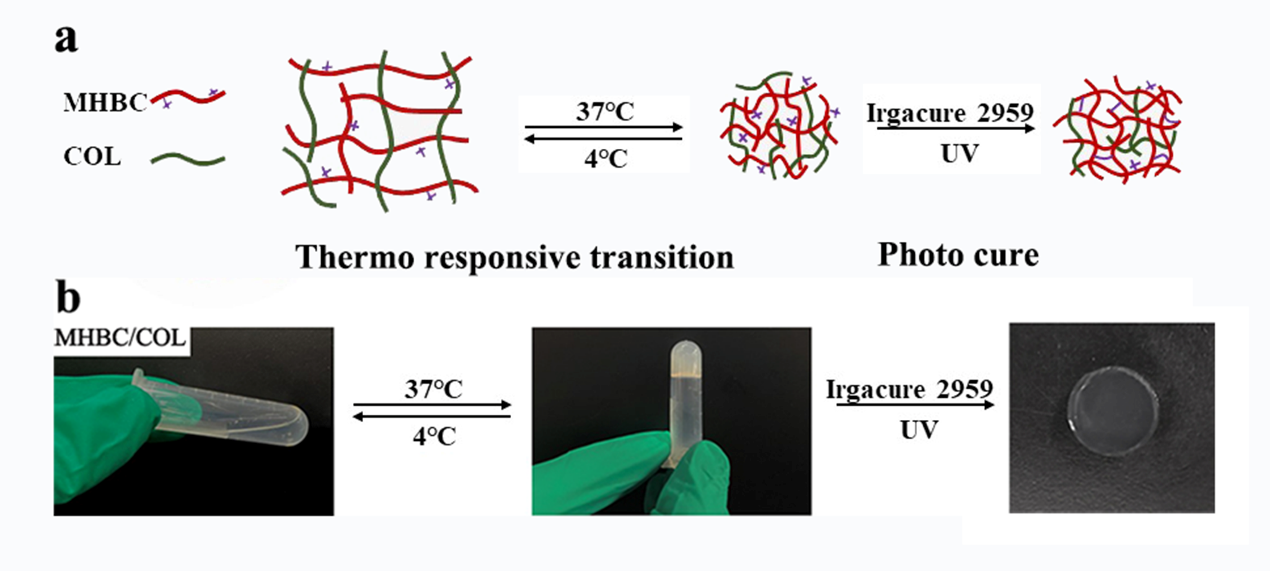 Figure 1. (a) Representative images of sol-gel transition via thermal/photo crosslinking of M/C hydrogel. (b) Schematics of the thermo/photo responsive crosslink of M/C hydrogel.
Curriculum Vitae
Ming Kong, Professor
College of Marine Life Science, Ocean University of China
2011.07-2013.12   Ocean University of China   Assistant Professor
2014.01-2019.12   Ocean University of China   Associated Professor
2017.01-2018.01   Harvard Medical School     Visiting Scholar
2020.01-present    Ocean University of China   Professor, PhD advisor
Research Interest and Achievements
Major research interests focus on investigation and application of natural biomaterials, including but are not limited to Functional design and preparation of biomaterials, Design and construction of drug delivery carriers, Microneedle engineering and application, Tissue engineering, etc. Has been hosted as PI and completed 3 NSFC projects and 6 other projects, joined as research principle in 4 National International Scientific and Technological Collaboration Projects, NSFC Union projects, etc. The preparation technology of bioabsorbable microneedles has completed industrial transformation. Published 80+ peer-reviewed articles in Science Advances, Advanced Healthcare Materials, Journal of Controlled Release, ACS Applied Materials & Interfaces, Nano Research, Carbohydrate Polymers, etc, with h-index 33. Active fellow of Chinese Biomaterials Society, Qingdao Chitin Research Association, etc. Have been elected as High-level Talents of China Medical City 113 medical special talents program, won the third prize of the 5th China (Taizhou) International Medical High-level Talents Innovation and Innovation Competition, Biomedical Category.